Interview with Ken "Nebo" Stonestreet.
  Noel Kelly the " Hooker of the Century" has named Nebo as the      hooker who he would pick to play in his Dream Team.
What else can anyone say!!
Well only the man himself...I sat down with Ken "Nebo" Stonestreet and had a wonderful 3 hours talking about the  good old days.
Nebo was born in 1942 in the inner Sydney suburb of Dulwich Hill.
Nebos dad Ted Stonestreet was a stunch Newtown supporter and Nebo and Ted would travel all over Sydney (via Public transport) to watch their beloved Bluebags. Ted was so keen that he would go to watch Newtown train at the old Henson Park and watch all three grades on match day.
A very big day at Henson Park.
Nebo and his dad Ted were there along with 21,586 other people.
Unfortunately for Ted and Nebo Saints beat Newtown 10-7.
Some of the Newtown players Nebo remembers seeing with his dad were Frank "Bumper" Farrell, Brian Clay, Ray Kelly, Kevin Considine and Johnny Raper.
The Mighty Blue Bags.
Nebos favorite players as a kid were the backbone of the old Newtown,
Players such as Bobby Whitton, Col Geelan, Laurie McMahon
and Peter Ryan.
Most of these players are in this rare color photo above.

Nebos favorite player was/is Dick Poole.
Dick on the move @ SSG.
As a young lad Nebo played Rugby League at school Dulwich Hill Public and played rep school football for NSW.
Nebos first game at the SCG was in 1955 at the age of 13.
This game was played before the third Test against France.
In front of a crowd of  62,458.
Australia 5 France 8.
Nebo played  some of his junior football in the South Sydney area.
He played for Redfern United, Glenroy Tigers.
Then with Gil McDougall at the Campertown Dragons in the Newtown area.
Gil McDougall playing for Wests years later.
Nebo and his two props from the famous Glenroy Tigers team of 1957 .
Then in 1959 Nebo at the age of only 17 was recommened by 
ex - Parrammatta five/eight Russell Butler to play out at Wellington.
Nebo was promised 200 pounds plus a job to make the trip to Wellington.
Three stories from the Wellington newspapers tell the story of a successful season.
Unfortunately for Nebo Wellington League had a ring in player and even though they were undefeated half way through the season all points were taken away from the team.
The 1959 Wellington Rugby League Team.
To make matters worst working in the mines was no fun then the news there was no money helped Nebo make up his mind to return home.
Nebo went back to his old job at the P.M.G and playing for the Camperdown Dragons.
1960
Nebo was approched by Frank Facer from St George to play 3rd grade for Saints.
Nebos first game in 3rd grade was against Wests.
Two very good sides played First Grade that day in 1960.
Later in the year Saints  deceided to go with locals only and Nebo was team less.
1961.
A phone call from John O'Toole saw Nebo playing for Windsor.
The year was 1961 and it appears where Nebo goes theres drama.


This story was taken from the Windsor Wolves Rugby League website.
Back in those days most Big time Rugby League was played on Saturday.
So to make a quid a lot of players would play Sunday football under a different name out in surrounding areas of Sydney.
Nebos AKA was Ken Paul he used his middle name as his surname.
Who said hookers had no brains???
1962
 Nebo received a phone call from Roy Flynn asking him if he would like to play for Easts.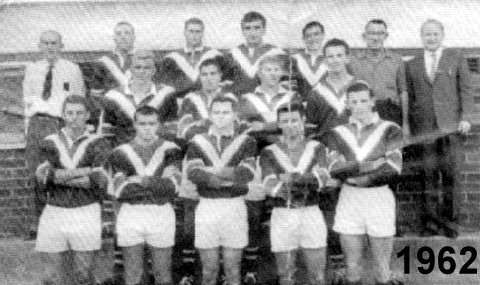 Easts at the old Sydney Sports Ground.
Nebos is third from the right back row.
1963-66.
 Nebo played First Grade for Easts between 1963 and 1966.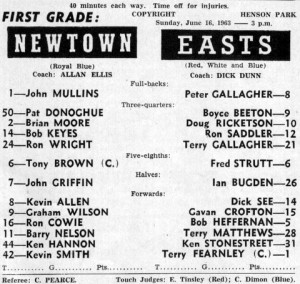 Nebos 1st First grade game against his favorite boyhood club Newtown.
Unfortunately Newtown won 19-0.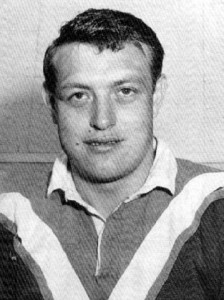 Nebo 1964.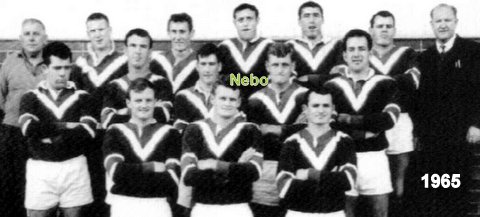 Easts Team 1965.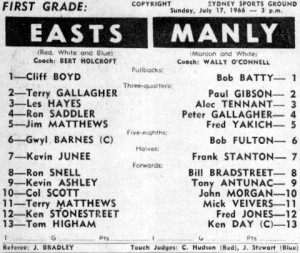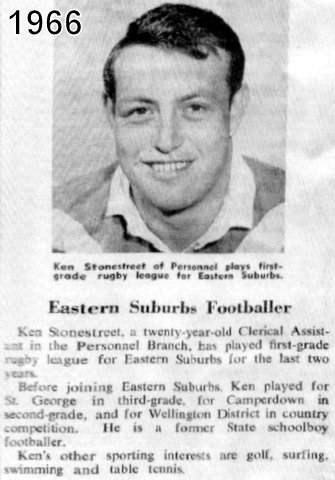 Pin up boy of the P.M.G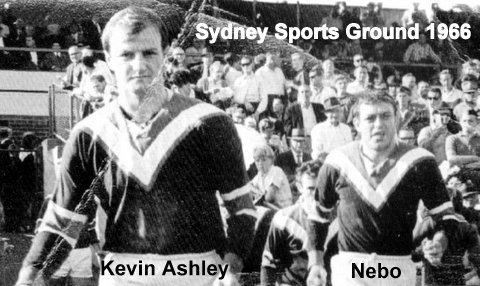 Two young Roosters running onto the S.S.G.

The late Kevin Ashley. RIP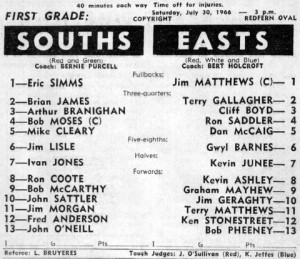 Nebos last game at Easts.
Souths 32 Easts 2.
Easts 1966.
It was a very long season for Nebo and his Easts team mates .
Easts did not win a game .
A new coach Jack Gibson arrived and Nebo was looking for a new club.
Bill Beaver rang and after a couple trial games Nebo was a Magpie and still is.
 Don't worry Nebo the Wests Years are coming…….
 1967-1972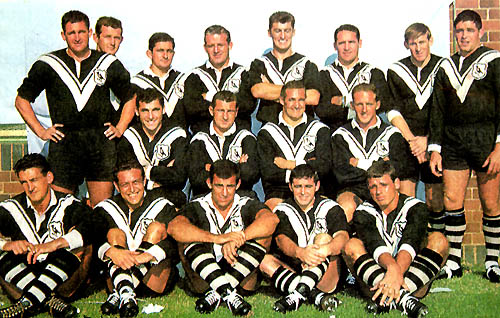 1967 Wests team photo taken outside of Pratten Park grandstand.
Nebo sitting between his two props Noel Dolton and Doug Walkaden.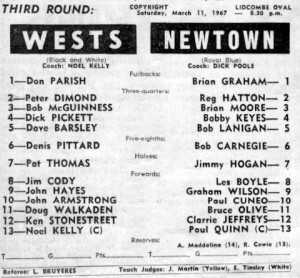 Nebos first First grade game for Wests was a Pre-season Cup match.

Wests 14 beat Newtown 8.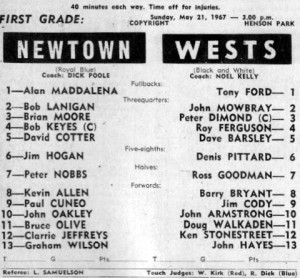 Wests beat Newtown 18-2.
When Nebo ran onto Henson Park a voice from the crowd yelled out "TRAITOR"
It was Ted Stonestreet welcoming his son to Henson Park.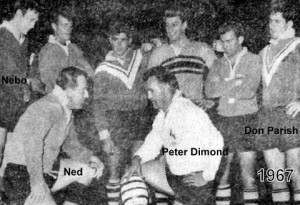 Nebo far left at Wests training 1967.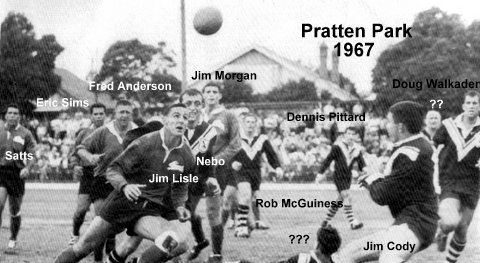 Wests playing Souths at Pratten Park 1967.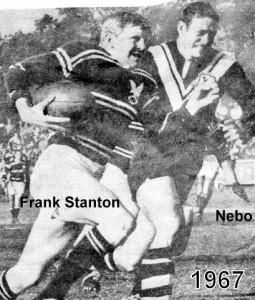 Nebo about to tackle Frank Stanton at Brookvale Oval 1967.
1968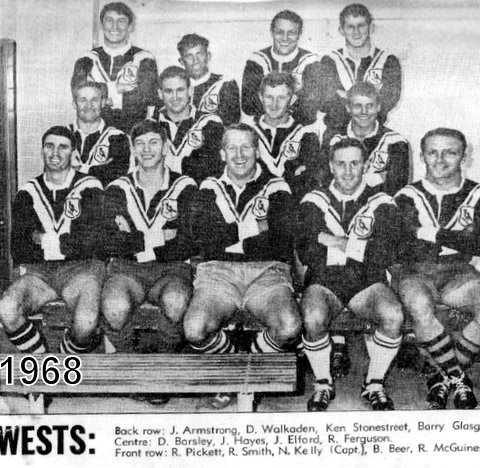 Photo taken at Pratten Park.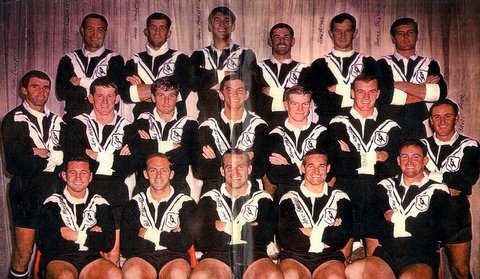 Photo taken at Wests Ashfield.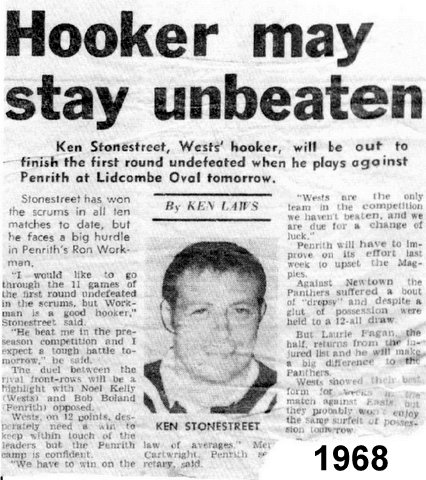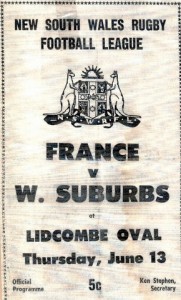 Wests played against the French World Cup team at Liddy Oval.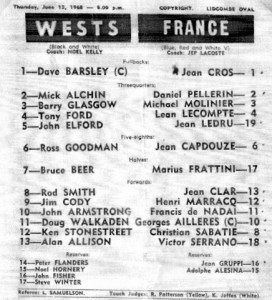 France 13 – Wests 12.
Wests were very unlucky to lose that night.
The complete French pack played against Australia in the World Cup final.
Nebo told me a young Nev Hornery knocked out the French hooker in a scrum and Nebo had to hold up the sleeping Christian Sabatie and still try to win the scrum.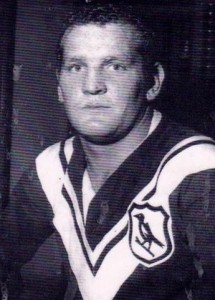 Which Nebo did.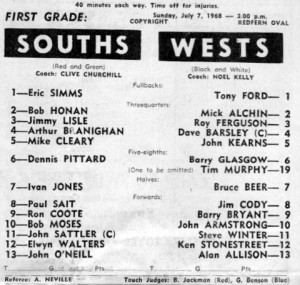 Wests and Nebo faced the might of Souths.
Nebo and his pack won the scrums.
 Souths 18 Wests 9.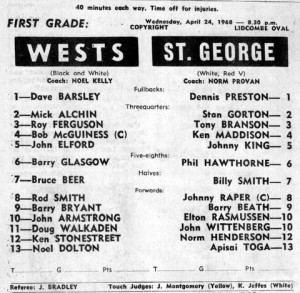 Wests 22 beat St George 6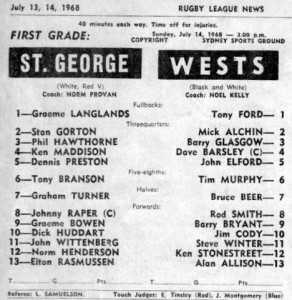 Wests 28 St George 19.
Two great games for Wests.
Nebo played in both games and won the scrums in both as well.
1969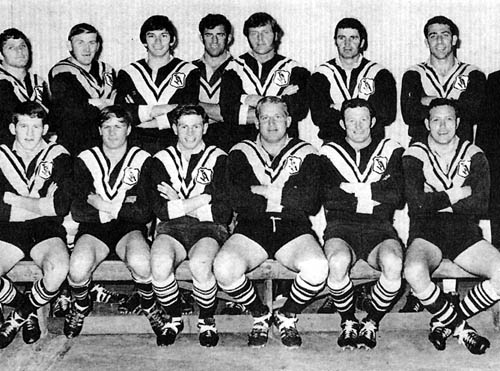 Nebo is far right sitting.
Nebo decided to leave the PMG and work for team mate Bruce Beer as a laborer with Bruce's building company.
This helped Nebo with his fitness and strength.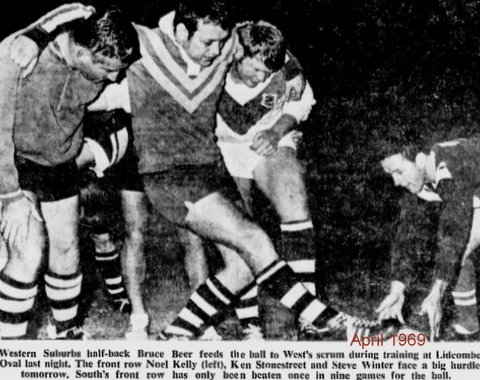 Bruce Beer feeding the scrum at training 1969.
Talking of scrums Nebo claims that the average per game over his career was about 30 per game.
This was the start of Nebos best year in Rugby League.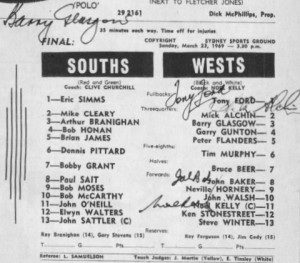 Wests made it the Final of the 1969 preseason Cup.
South 19 Wests 7.
The crowd was 30,609 including two young Magpies myself and Greg Willis.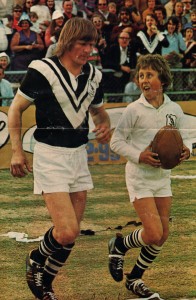 1969 was also the year Tommy Raudonikis arrived at Wests.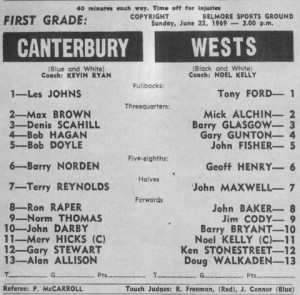 Nebo believes his hooking on this day helped him get picked for N.S.W.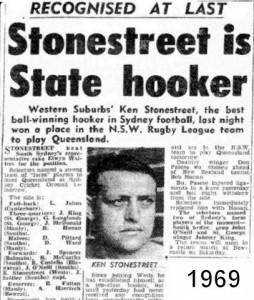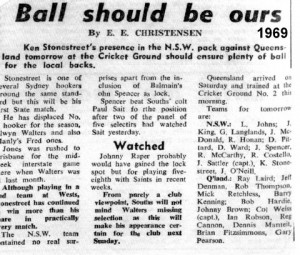 Nebo gets his well deserved chance at the big time.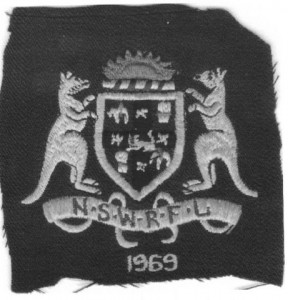 N.S.W. Coat of Arms.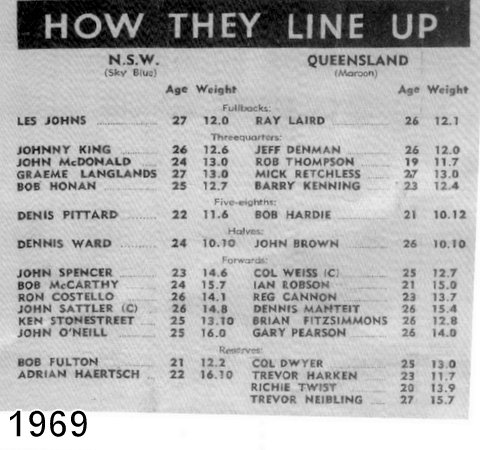 Sorry Nebo the Age column must be a miss print.
It should read 27!!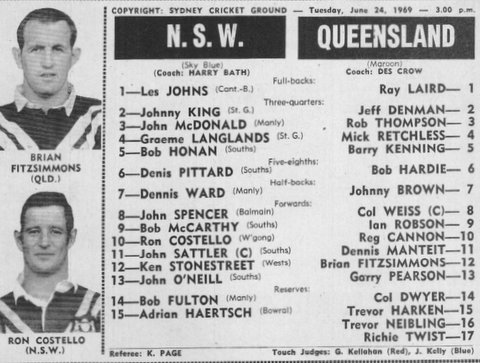 NSW 33 beat QLD 17.
Nebo scored a try.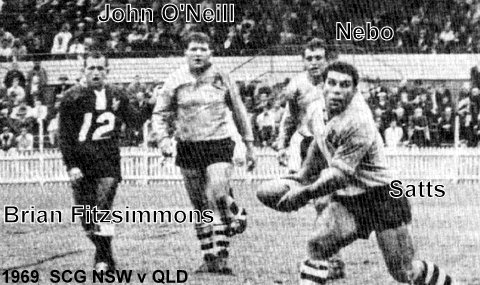 Surprise Satts passing away from Nebo.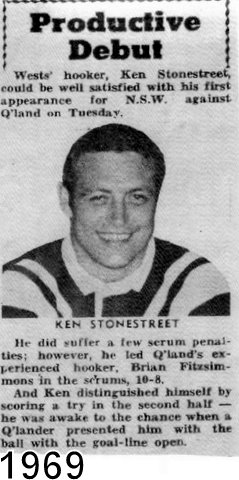 Match report of Nebos debut for N.S.W.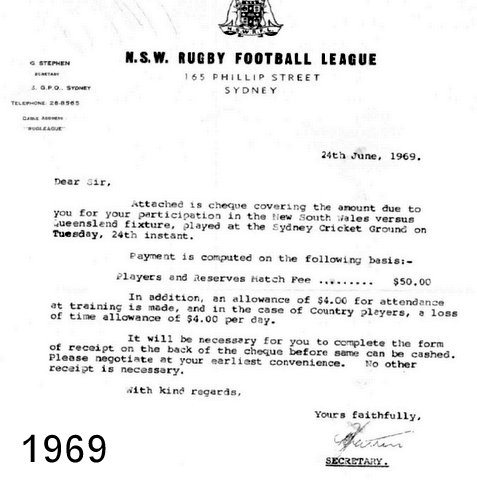 Match payment of $50 plus $4 for attending training.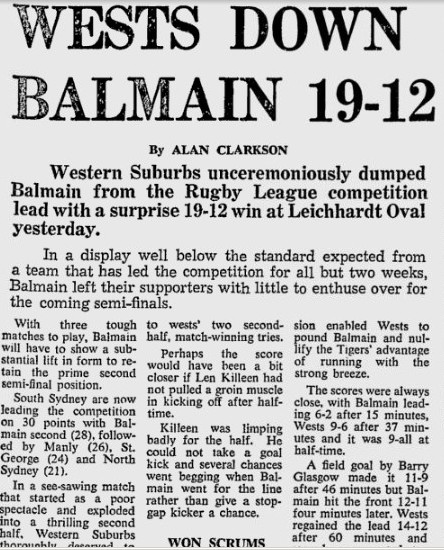 Another highlight of 1969 for Nebo was to captain Wests and also score a try in this second round clash with the 1969 Premiers Balmain.
Note. I am looking for the video of this game please contact.
The end of season game at Mt Isa also was a game to remember.
1970 -1972.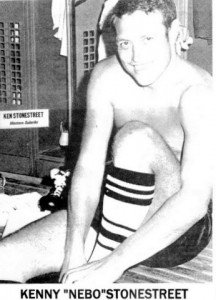 Nebo getting ready for another season.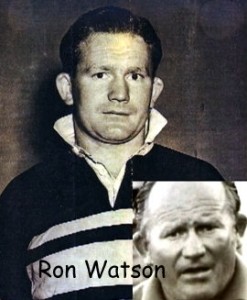 Neds gone and Ron Watson takes over.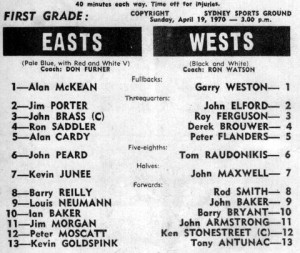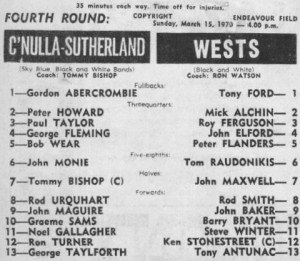 Nebo had a few different props that year.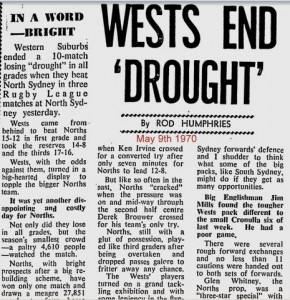 One of the few victories in 1970.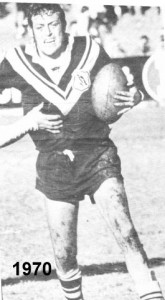 Nebo taking the ball up.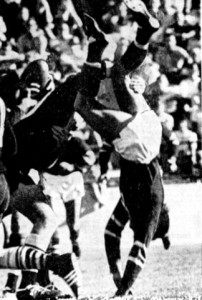 Barry Bryant tackles Louis Newman in 1970.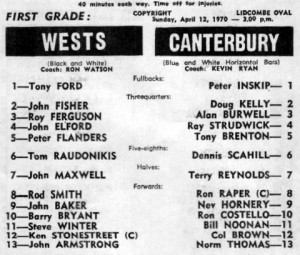 Ken Stonestreet Captain.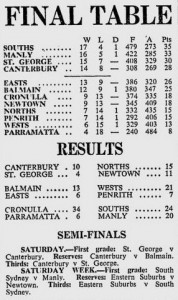 Not a very good season for Nebo or Wests.
In 1971 Nebo played his 100th consecutive first grade match.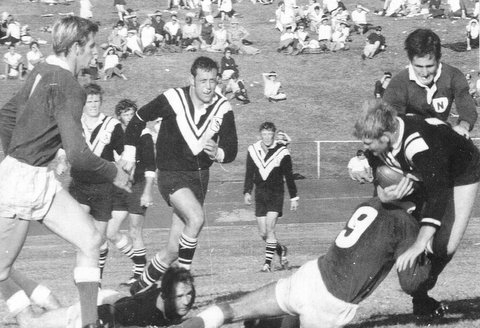 Nebo on the run at Henson Park 1971.
Ron Watson was still coach and Wests started the season with a bang they beat Canterbury 55 – 12 at Lidcombe Oval.
Wests also finished with the wooden spoon only winning 4 games all season.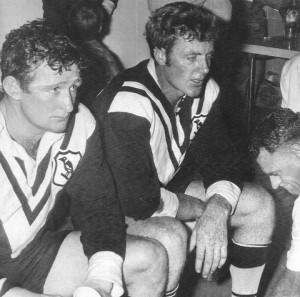 I guess this photo of John Baker and Barry Bryant says it all.
1972 Was Nebos last year as a player.
Ron Watson leaves and Don Parish arrives.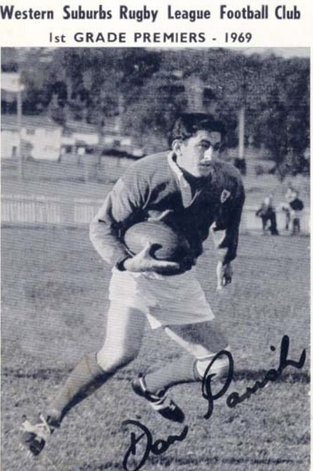 Don was capt/coach of Wests in the Illawarra comp.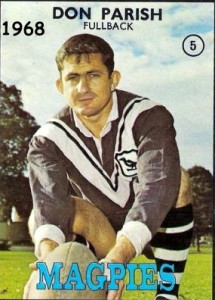 And of course played 71 First grade games for the Magpies.
Wests finished 7th in 1972.
After 122 First grade games this was Nebos last game in First grade.
Wests 7- Cronulla 25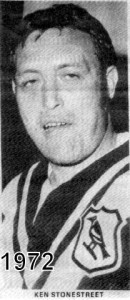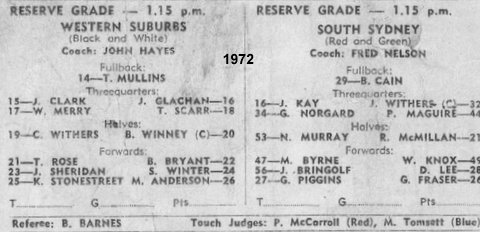 Nebos almost last game.
Wests Reserve grade beat Souths and then played in a play off for fourth spot but Wests lost.
Wests First Grade finished 7th in 1972.
1973 and 1974.
Nebo felt he would like to give something back to Wests .
He was appointed coach of the new style third grade.
The Under 23 Grade.
1973.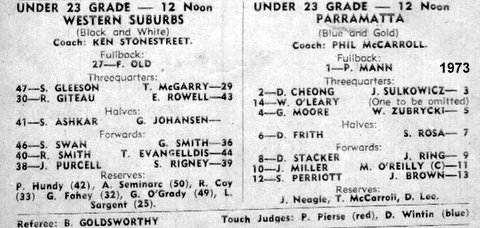 1974.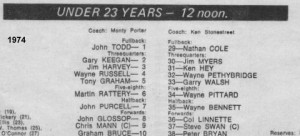 Nebos main aim was to prepare the young players for their football future with Wests.
After 8 years with Wests and at the age of 32 Nebo called it a day.
Thirroul Butchers Premiers 1973.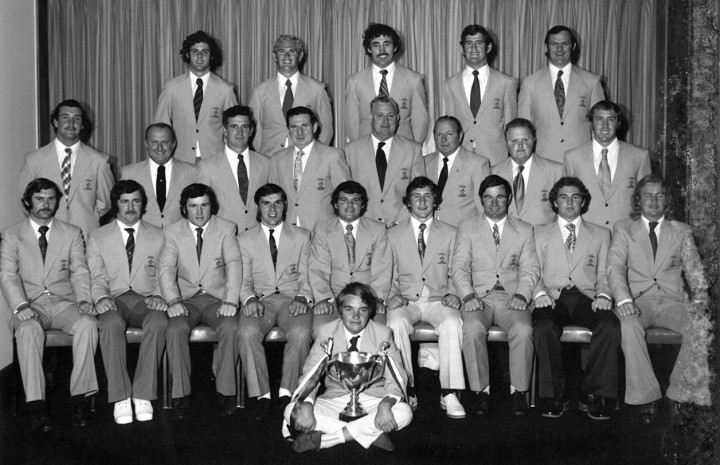 1973 Premiers. Top: Mark Nolan, Stephen Ross, Alan McRitchie, Ray Millington, Ian Grose. Centre: Charlie Bennett, Les Griffin (trainer), Harry Oxtoby (trainer), Greg Anderson (treasurer), Jack Armstrong (secretary), Bruce Cambridge (president), Ray Hunt (manager), Graham Seymour. Front: Peter Nolan, Peter Dickenson, Aiden Beath, Gerry Gelovan, John McCarthy (capt/coach), Les Mara, John Floyd, Maurice Stynes, Jon Sutherland. Ball boy: Ian Blakney. Absent: Arthur Fogg.
In 1975 at the age of 33 Nebo was asked by John McCarthy capt/coach if he would like to play for Thirroul Butchers.
Nebo said yes if they would pay $6ooo and he only trained one night a week.
They surprised Nebo by agreeing to his conditions!!
Of course he was only joking.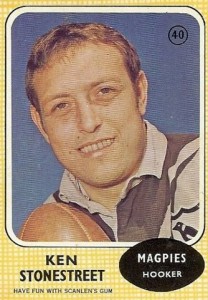 I then asked Nebo the hard questions…
Best/Hardest Hooker he played against.
Balmains Dick Wilson.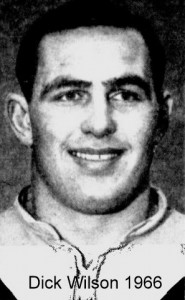 Favorite ground.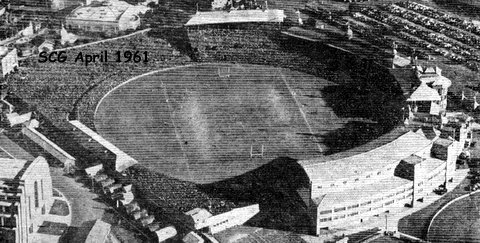 Easy the S.C.G.
Best Wests player he played with.
Doug Walkaden and Tommy Raudonikis.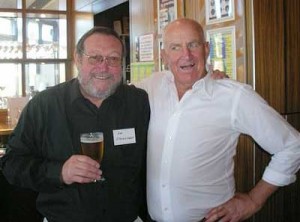 Nebo and Doug at a Pratten Park Magpies reunion.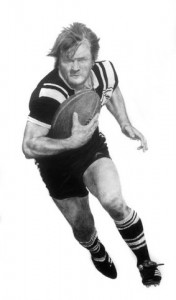 Tommy Raudonikis 1978
Which was the best ground Pratten Park or Lidcombe Oval ?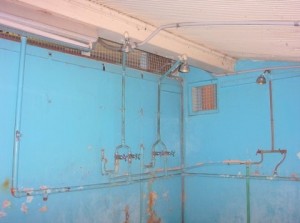 These showers at Pratten Park once used by Ken Stonestreet.
Lidcombe Oval…reason…better showers.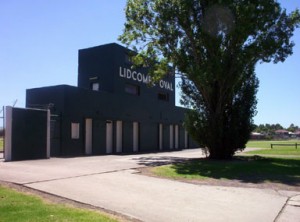 Entrance to the old home of Wests.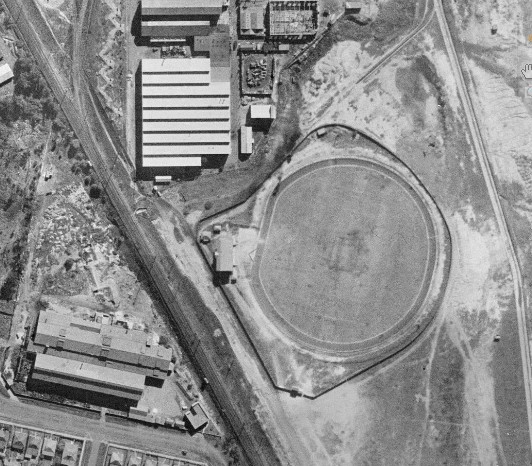 Lidcombe Oval from the air one year after Nebo was born 1943.
Where did the nickname Nebo come from??
Nebos answer….
While playing snooker with Tony Packham, Ned, Chow Hayes and Doug Walkaden, at Forestville RSL.
Tony sinks the wrong ball and I say " your like Nebo Road after 12 furlongs your no good…
Next week Nebo Road is running in the Newmarket so I tells all the boys that Nebo Road will win.
Well it did… paid well ..and the  nickname stuck.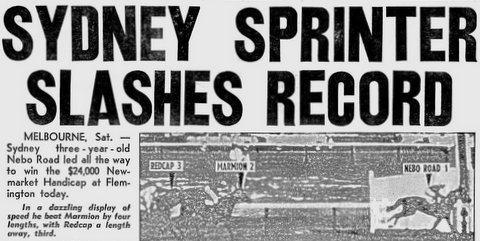 Nebo Road wins the 1967 Newmarket Handicap at Flemington.
I would like to thank very much Nebos daughter Megan for compiling and saving all of dads football history into book form. It made my job a lot easier.
As I finish this story on one of Wests great club man I would like to say….
Thanks Nebo for the enjoyment you have given all Rugby League fans and especially Wests supporters.
It also was a great honor to spend time with a one of my boyhood footie heroes.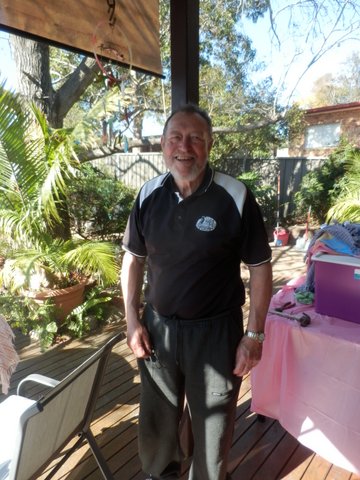 Ken 'Nebo" Stonestreet. 2014